Messinia will take your breath away with its diversity. From Ancient Greek history to its vast olive groves, green valleys, mountains, gorges and coves. Numerous small or long sandy beaches, small mountainous cliff-hanging villages with breathtaking views that hide beautiful gorges and waterfalls.
Messinia is home to Voidokilia Cove (pictured above) which is not only one of the most beautiful beaches in Greece, but maybe also in the Mediterranean Sea.
Voidokilia is hidden behind sand dunes, which seem to be protecting its secret of magic beauty. The beach of outstanding beauty lies beneath the Old Frankish castle (Paliokastro) and the cave of King Nestor, the ancient King of Pylos, who according to legend, used this cave as a haven for his cattle.
From Voidokilia beach you can pass onto the lagoon of Gialova through a natural path to observe the lagoon's bird life, and the fascinating world of one of Europe's most important wetlands. To swim here is a must in anyones life time!!!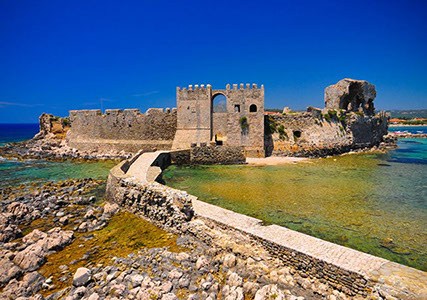 Methoni Castle
South east of Messinia, between the Ionian Sea and the Messinian Gulf, we meet the picturesque town of Methoni with its ancient castle. A place which used to be one of the most important routes in the maritime history of the Mediterranean
Waterfalls of Neda
In central Messinia well hidden among the hills is the gorge of Neda. This is a small green paradise that mother nature has provided, with waterfalls where their streams create consecutive ponds and more waterfalls surrounded by lush greenery and flora.
Accommodation
Our little retreat of paradise is hidden in a 5000 sqm enclosed estate of peace and tranquility, located in one of the most beautiful parts of Greece, Filiatra Messinias. We live on the grounds with our 3 friendly dogs and 2 cats. We are always there if you need us but also respect your privacy and you have your own separate accommodation within the grounds. There are 2 studio bungalows with ensuite shower facilities, comfortable for 2 persons in each one.
The retreat experience is genuine, simple and at one with nature and this is reflected in the accommodation. You won't find any shiny cutting edge technology but you will experience a warm, comfortable and simplistic accommodation in a traditional Greek/English family hospitality style.
Set in 5000sqm with the smell of orange, lemons and olives groves, along with the distant roll of the sea promotes your body, mind and soul to relax and rejuvenate. The peaceful gardens give a relaxing opportunity to enjoy some vitamin D in your spare time or just an easy 5 minutes walk brings you to the closest beach. In the evening you can watch the sunset over the sea from the roof terraces as you try meditative Qi gong, relaxing you ready for bed time.
At the end of the day your room will be your little sanctuary in which to rest, relax and recoup.
Our guests are either a small group of friends, couples, families or solo travellers who are looking for the alternative to the larger group retreats that are offered. Our aim is to give a personal service so that you get the maximum from your time with us. Quality is much more important to us than quantity and through the years we have met some great people, who went on to become our friends and come back to see us each year.
The place
We offer our services throughout the year and can be booked exclusively, or as part of the maximum group of 4.
The nearest airport to our base in Filiatra is in Kalamata, 45km away where flights run from March until October. The second nearest and the biggest airport of Greece is in Athens, with year round flights. Many international airlines fly direct to Athens from all over the world.
There is a good bus service between Athens Bus Station and Kalamata with buses running almost hourly (transfers by car can be arranged at an extra fee).
The journey from Athens via Corinth takes about 2:30 hours to our Zest in Greece retreat in Filiatra and takes you through some stunning Peloponnese scenery.
Included in the price are transfers from and to Kalamata Airport or bus station, which is a 45 minutes drive from our retreat.
Packages start from £795 pp which includes:
7 nights accommodation
Up to 6 hours of TaiChi, Chi Kung & Meditation classes a day
Guided Scenic Walks/Hikes in the picturesque natural beauty areas of Messinia
Water, Tea and 3 meals a day/Cooked/Raw/Vegan/etc.
Shared & Private accommodation available
Trip to the beautiful waterfalls
Trip to Gialova Lagoon
Beautiful relaxing areas
Maximum 4 persons per week
Return transfers from Kalamata Airport/bus station. (Araxos/athens prices on request)
Tai Chi Booklet of what you have learned & contact to keep you motivated!!
Please note that Your Flights are NOT included
Please make sure you take out travel insurance
8am: Wake up tea
8.30am: QiGong
9am: Breakfast
9:30am: Tai Chi Walking
10am: Tai Chi lesson
11am: Tea Break
11.30 am: Tai Chi lesson
12.30 am: Meditation
1pm: Lunch & Beach/Relax /Free time
5pm: Tai Chi Lesson
7pm: Meditation/ QiGong
7.30pm: Dinner
8.30pm: Chill time